Commissioner Bruce Thompson Op-Ed
Remember your Why – GDOL is in the People Business
By: Georgia Labor Commissioner Bruce Thompson
executive-team.png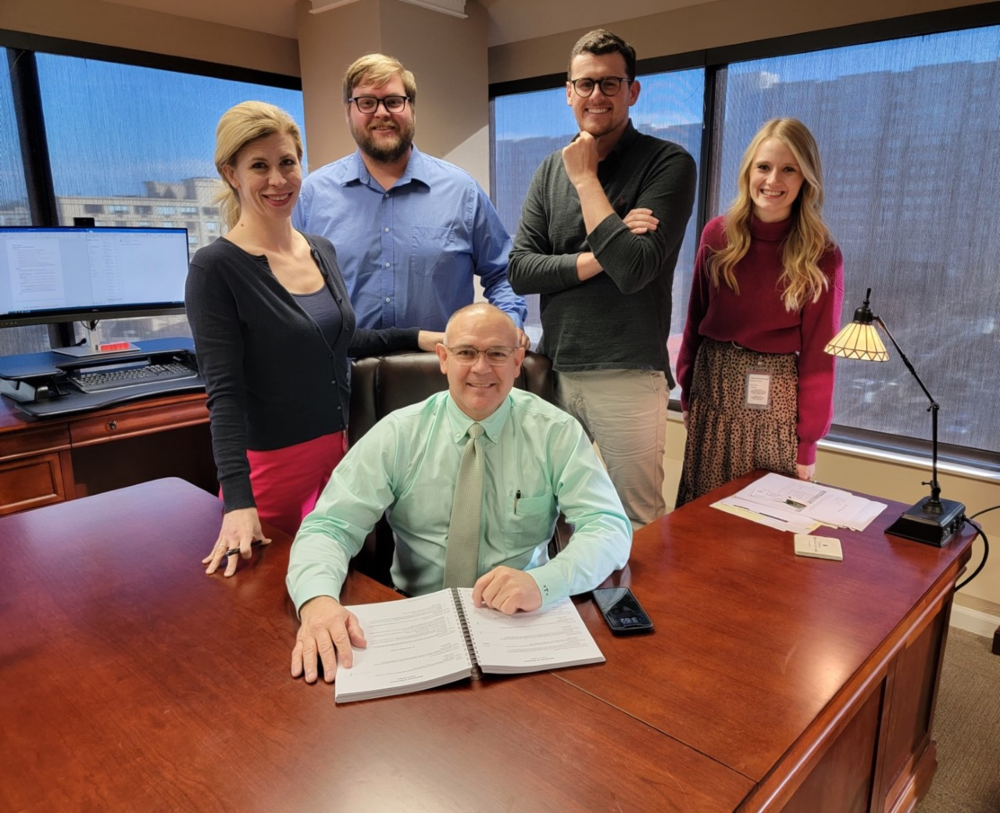 Since day one of being sworn in as Georgia's tenth Labor Commissioner, I have charged myself and our team with this simple yet profound phrase; "Remember Your Why."
I constantly remind everyone that we are in the people business at the Georgia Department of Labor (GDOL). That begins by establishing a culture that serves and respects each other internally so it will be reflected externally.
As Georgians, everyone is familiar with Chick-fil-A and their traditional response, "My pleasure!" Although their food is awesome, it isn't just the classic chicken sandwich or waffle fries that brings us back time after time; it is the consistent, friendly service.
Taking a nugget of wisdom from Chick-fil-A's playbook, we're working to build that same level of consistent service across all departments – whether that's frontline claims administrators or career center professionals advocating for the unemployed. Like Chick-fil-A, it's always "our pleasure" to serve you.
It is important to remind every team member, from the maintenance crew to C-level executives, that they are important and valuable to the cause. As we approach the 100 days in office milestone, the phrase from the movie "Facing the Giants" rings true. "Attitude reflects leadership," and it is clear the aptitude and attitude at the agency have dramatically changed.
On day one, we hit the ground with a forensic eye evaluating processes and procedures for the opportunity to eliminate inefficiencies while establishing processes to make GDOL the most transparent and responsive agency in state government.
On average, GDOL processes 250,000 claims annually, which spiked to 4,525,000 in 2020, totaling over $23.6 billion in payments. To put this in perspective, the agency paid out more revenue during the pandemic than in the past 84 years combined. When you combine that incredible volume with the fact the unemployment software platform was built in the 1980s, it explains why millions of citizens waited months to receive any assistance with their claims.
While on the campaign trail, I committed to modernizing our IT infrastructure by moving to a cloud-based model as a security protocol while developing a plan to modernize the current platform. A modern and responsive UI system will minimize the claims processing time while expediting the dispersal of funds for Georgians who desperately need financial assistance. These strategic improvements and recent updates to our AI-driven virtual agent align with my campaign promise to make IT modernization the number one priority.
With the recent launch of these initiatives, we take another step closer to aligning with our mission of being in the people business by affording Georgians the ability to self-direct how they desire to engage with the GDOL. These enhancements increase the availability of live agents who can assist those desiring personal assistance while offering technology to help those simply seeking a quick answer.
Georgia is stacked with amenities and opportunities, making the state very attractive to those looking to relocate. With a population of roughly 11 million people and a forecast that another 3 million will call the Peach State home by 2030, demand will only increase for our services even during a normalized economy. With a constant threat of a possible recession on the horizon, my job is to prepare the agency to scale as a means of crisis management. With nearly all our funding coming from Washington D.C. in the form of grants, it was imperative for me to lead a team to Capitol Hill to establish relationships with the U.S. Department of Labor while fighting to protect the funding necessary to accomplish our goals. As a reference point, this agency is currently operating with an efficiency model that utilizes nearly half the staff of 2012 while working toward providing the "Gold Standard" of customer service our residents expect.
It has often been said that you do not get a second chance at a first impression, and nothing is more true than when someone enters our career centers seeking assistance. With 41 career centers spread throughout the state, we have made it a priority to visit, assess, and inventory each one to ensure they meet or exceed our new standards. Whether the center needs a fresh coat of paint or upgraded technology, our focus is to ensure the right people, in the right place, empowered to make the right decisions, are available to serve those in need.
As I said before, 'we are not in the claims business; we're not in the workforce business – we are in the people business.' Those who have taken the opportunity to visit our campus in Atlanta walk away amazed at the transformation in our first 70 days, often stating that it truly is a new day at this agency. The atmosphere is positive, with friendly faces eager to serve on our way toward becoming the top Department of Labor in the country.